Karnataka to announce land use policy for wind power projects :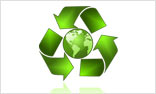 The Karnataka Government will soon bring out an exclusive land policy for allotment of land for wind power projects. "The policy will be modeled on Gujarat's policy and will be announced in the next two to three months", a top government official said.

"There are several wind farm developers waiting for the allotment of land in the state. Many projects in the Western Ghats area are waiting to be completed. The government is taking strict measures to retain only the serious players in the business of installing wind turbine projects," said N S Prasanna Kumar, Managing Director, Karnataka Renewable Energy Development Ltd.